---
AdvanFort is the leading provider of maritime security to protect lives and maritime assets against any type of threat.
AdvanFort prides itself with strategic and innovative responses in view of the continuing problem of sea piracy specifically in the Gulf of Aden. Our company closely works with its clients and the maritime industry stakeholders to assess all threats and determine best solutions to secure them and their assets to bring them to safe waters.
With our global reach and years of experience in dealing with maritime security and crisis situations, customers are assured that AdvanFort will immediately respond to any emergencies and critical missions.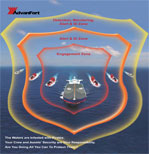 Escort and Protective Zone

Three deterrence lines of dependable security. The strategic maritime security system of AdvanFort include a fully-equipped escort and protective force to deter any sign of piracy and is tactically committed to secure the customer to safe waters.

Click Image for Bigger View

Strategic Security

AdvanFort provides a highly dependable total security solution to address the vulnerability of vessels and its crew. We uphold a strong and cutting edge shore-based infrastructure braced with a real-time and high speed emergency communication and command control systems to indisputably save lives and assets at risk.

Click Image for Bigger View